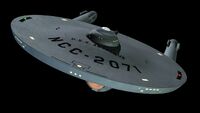 Star Trek: Antyllus, Episode 1: "The Building in the Bubble"
Brand new Star Trek fan film series from George Kayaian. Episode One: "The Building In A Bubble" The USS Antyllus heads into unknown space where they suddenly encounter something familiar, yet unbelievable at the same time. Will they be able to solve the mystery?
Part 1:
http://youtu.be/ES8Kra-DY2Y
Part 2:
http://www.youtube.com/watch?v=mvFsi9SU ... WETSXVBAGQ
_________________
Ray Martin is the Captain of the U.S.S. Saladin, in the latter half of the 23rd Century.
"Alternate starship designs are from the Starfleet Technical Manual by Franz Joseph (c) 1975 and are used with permission."
The Starship Saladin is now on Facebook:
https://www.facebook.com/StarshipSaladin